In need of affordable provincial courier service that allows same day deliveries? Everything that you need is just a few clicks away with Transportify!
Same day deliveries with Transportify
With Transportify, you can schedule an urgent booking within 60 minutes and not have any problem delivering your items to any province in Luzon within the day. If you already have plans ahead of time, you can also have it prescheduled up to 2 weeks in advance – expect your service on your scheduled day, and experience same day deliveries from a provincial courier service like no other!
Deliver anywhere in Luzon
From deliveries within Mega Manila, Transportify now picks up and delivers anywhere in Luzon!
Be it a delivery up in the North (Ilocos Region, Cagayan Valley, and the Cordillera Administrative Region) or down in the South (CALABARZON, MIMAROPA, Bicol Region), we can provide you with a cost-efficient provincial courier service.
All that you need is to request a car for your shipments within a standard service area, and Transportify will deliver in provinces from there. Book and let Transportify deliver at any province of your choice now!
Reasonably priced delivery services
With Transportify's flexibility in delivery, you can book as much as 10 destinations anywhere throughout Luzon! Forget about the fees because at Transportify, you can save more!
If you are needing a provincial courier service that delivers within the standard service area, there would be no surcharges at all! The standard fare depends on the vehicle class you need. If it's an economy class vehicle, you'd pay as low as ₱250 for the first 3 kilometers and a succeeding ₱20 charge per kilometer thereafter. To make it easier for you, here is a list of the standard fare pricing: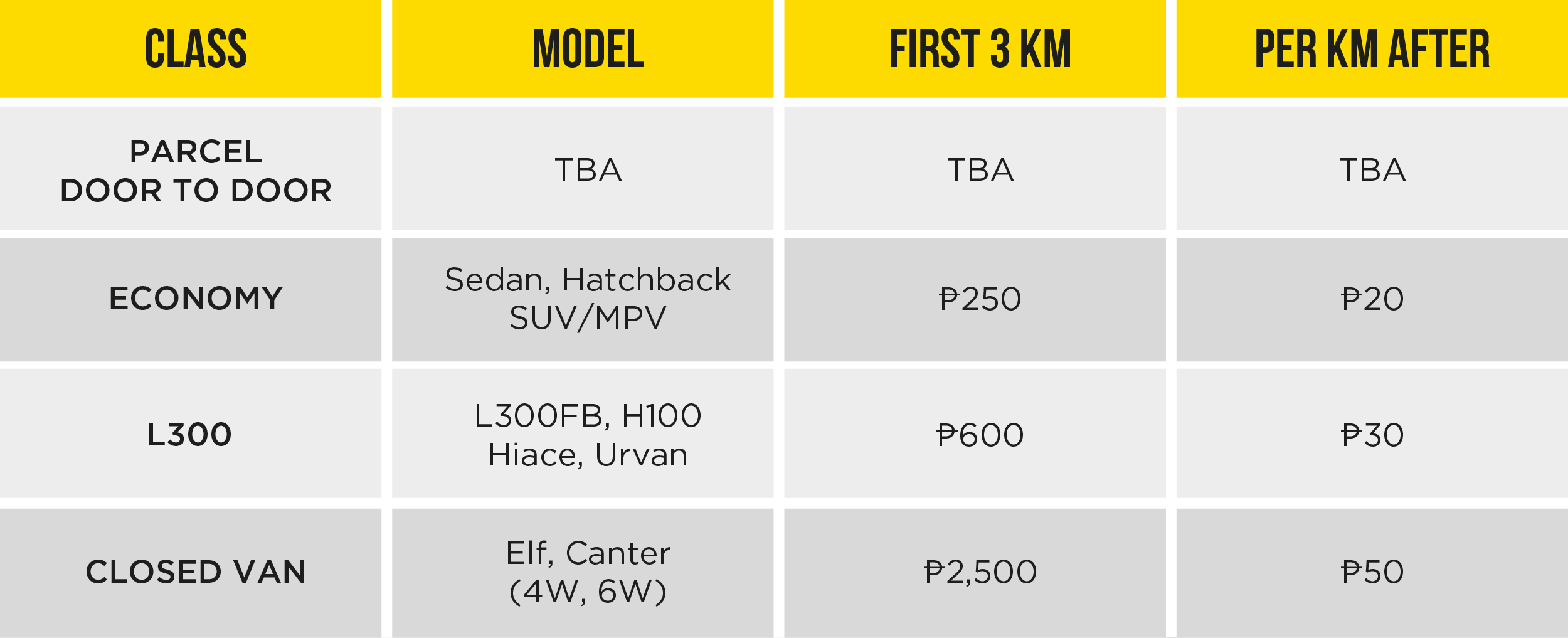 If you would need to deliver outside of the standard service area, you pay a surcharge only of 25% above the normal rates. What's more? Transportify's 25% surcharge will not apply if your pickup and final destination is within the standard service area!
Track and trace provincial deliveries using the app
Transportify's user friendly application does not only let you transact deliveries in just a few clicks; it also allows you to track and trace provincial deliveries in real time!
Just download the app via App Store or Google Play, select a pick-up and delivery schedule, and monitor where your shipments are. You'll also receive a digital signature from your receiver once the packages are received. If there are multiple provincial destinations, you'll receive one from each receiver.
Unparalleled provincial courier service
Same day delivery at any point in Luzon for a reasonable price, plus the ability to track and trace your shipments in real time? With the unparalleled provincial courier servicethat Transportify has to offer, there is nothing more you can ask for!
Continuously intensifying their delivery flexibility, Transportify's provincial courier service is just right for your business! For more information, browse through the website or chat with us.